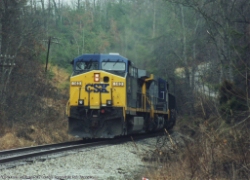 Welcome to the RRPictureArchives.NET contributor site of Jay Ramsey.



I shot quite a bit of locomotives and hoppers in and around the Whitesburg and Hazard, KY area in the late 1980's to early 1990's. The dates posted on my older photos are sometimes approximate, and as I find the real dates I will edit them.

Also, some of my original scans were done at a small size to fit on another website's space, and as I run into those photos again I'll try to rescan them and get better shots put up here.

My "day job" takes me through southwestern Indiana, southern Illinois and western Kentucky alot, plus some in eastern Kentucky too, and so my more modern photos are in these areas.

Thanks for visiting!

Jay



You may browse my collection of pictures via the menu located on the left hand side of the page. I hope you enjoy the collection and thanks for stopping by!
Note: This site is best viewed in Internet Explorer 6.0 or above.
Select one of the links from the menu on the left to begin browsing the collection.